John Starks Joins Parks To Celebrate Improvements To Sedgwick Playground
On July 8, Parks & Recreation Commissioner Adrian Benepe joined former New York Knicks player John Starks, Courts of Dreams Foundation Chairman Natasha Cornstein, Department of Environmental Protection Assistant Director of Community Partnerships Effie Ardizzone, Council Member Helen Foster, Assembly Member Vanessa Gibson, Deputy Borough President Aurelia Greene, and kids from the Sedgwick Community and Hunts Point Recreation Centers to the celebrate improvements to Sedgwick Playground and participate in a basketball clinic run by the New York Knicks.
"Thanks to $1.7 million in DEP Croton Mitigation Funds, Sedgwick Playground has been transformed into a recreational oasis," said Commissioner Adrian Benepe. "New handball courts, playground equipment, swings, and a spray shower will give kids in the community even more opportunities to play outside and stay fit this summer. After today's clinic with the New York Knicks, kids can continue to practice their basketball skills at Sedgwick Playground thanks to the renovated courts rebuilt by the Courts of Dreams Foundation."
The $1.7 million project was financed with money from the Croton Water Filtration Plant Mitigation Fund, and by a generous donation from the Courts of Dreams Foundation. The project includes refinished basketball and handball courts, new playground equipment, swings, a spray shower, plantings, fencing, and erosion control.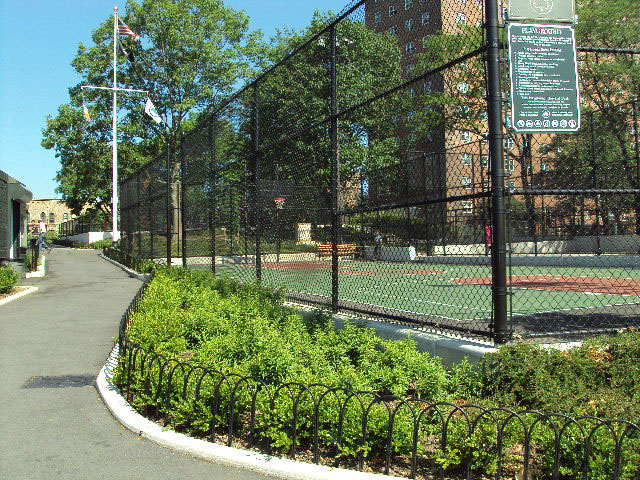 The Courts of Dreams Foundation is a 501(c)3 organization whose mission is to restore and maintain outdoor basketball courts for children in NYC neighborhoods fostering healthy, safe communities while promoting the values of basketball such as teamwork, mutual respect and leadership.
Originally posted on nycgovparks.org.
"We are so delighted to work with Commissioner Benepe and the Department of Parks & Recreation to help create access to safe, beautiful basketball courts for all New Yorkers. This is a fabulous celebration of our partnership and we hope this will be the first of many collaborations," said Natasha Cornstein, Chairman, Courts of Dreams Foundation.
The project is part of a $220 million investment in Bronx Parks funded by mitigation funds from the construction of the Croton Water Filtration Plant through the New York City Department of Environmental Protection and the Municipal Water Finance Authority.
Croton-funded projects fall into five categories and include improving neighborhood parks, renovating regional recreation facilities, developing the Bronx Greenway, improving and expanding access to the Bronx waterfront, and "greening" the borough. To date, Parks has completed 31 projects representing $64 million. Twenty-one projects representing $60 million are currently under construction and an additional 23 projects representing $74 million are in design.