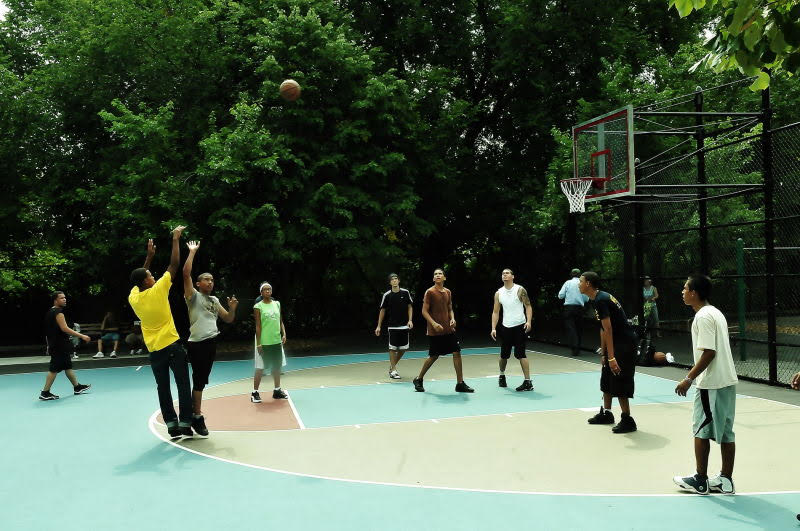 Courts of Dreams is a nonprofit organization dedicated to refurbishing run-down basketball courts in neighborhoods throughout New York City.
We select outdoor courts that are in poor condition yet still remain in use by neighborhood children. These courts serve to create a sense of community through the sport of basketball.
We strive to bring joy and connectivity to neighborhoods through access to safe, beautiful basketball courts.  Ultimately, the goal of Courts of Dreams is to foster positive communities by promoting the values of basketball, such as team work, mutual respect, and leadership.
What People Are Saying
Your donation is a true testament to your unwavering commitment to the children of the City of New York. You have helped make dreams come true for hundreds of kids and adults on our Courts of Dreams
Love this mission.  It's obviously near and dear to my heart as I grew up playing on these NYC basketball courts.  All of which needed work.
The ability to play in open spaces was integral to my development as a person when I was growing up in Oklahoma.  I hope the park will afford the neighborhood access to quality recreation
Court of Dreams foundation brings all types of communities and youth together on beautifully renovated Basketball courts to celebrate sports with diversity and equality. Providing renovated safe places for children to come play promotes greater understanding and cooperation for our next generation of leaders.
Courts of Dreams Advisory Board
Marc Cornstein
Founder & Co-Chair, Courts of Dreams
Natasha Cornstein
Founder & Co-Chair, Courts of Dreams
Metta Sandiford Artest
Former NBA Champion and NYC legend
Samuel Dalembert
Former NY Knick & J Walter Kennedy Citizenship Award Winner
Dr. Tom Kelly
Head of School, Horace Mann
Jake Klores
Former Columbia University Basketball Player & Entrepreneur
John Starks
Former NY Knicks legend
Kiki Vandeweghe
Former NY Knicks player, Nets Head Coach and NBA General Manager
Courts of Dreams In Action